The Traverse City Tournament is underway and getting close to its final days, and its a sign that NHL Training camps are just right around the corner. The offseason workouts have been going on for months as players ready themselves for the physical grind of a full non-Lockout shortened season. Groups of players who spend their offseason elsewhere have already started to gather together for some pre-traning camp skates at metro area ice arenas. Fans are starting to spend more time on team message boards as they anticipate a new season as their favorite club joins a new division. Or maybe their excited about the Wild's new (awful looking) road sweaters?!?! Either way, it seems only appropriate to take a look at this new division and really assess what the Wild's chances are. The long Alberta-British Columbia divisional games are gone and I know for myself I am relishing the fact I won't have to spend quite as many nights following games with a 9:00PM start time.
By the way, for any of you fans out there that want to get your hands an interesting collection of Wild gear, check out this Minnnesota Ultimate online charity auction by fan Ron Gaddey here. Proceeds go to the Gary Tinsley Memorial Scholarship Fund at the University of Minnesota you can read about the scholarship fund here. Beyond the travel though, was this a real blessing for the team from a competitive standpoint? How will the Wild fare against the likes of St. Louis, Winnipeg, Dallas, Nashville, Chicago and the only team from the Northwest that is still around as a divisional foe Colorado? Did the Wild do enough in the offseason to be a Top 3 team in the Central and qualify for the playoffs? In this article we will examine all of the teams in the division and talks about their relative strengths and weaknesses as well as predicting where they'll finish.
Click on "Continue Reading" for the rest of the article…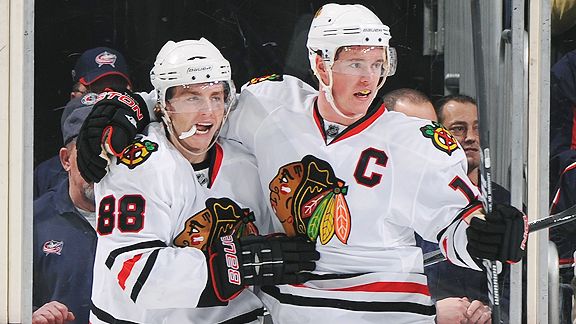 Chicago Blackhawks
Arrivals: Nikolai Khabibulin
Departures: Dave Bolland, Viktor Stalberg, Michael Frolik, Daniel Carcillo, Ray Emery
Strengths: Whether there really is a quantifyable thing as a Stanley Cup hangover or not, the fact is this team just won the Stanley Cup where it capped off an uber dominant season with its 2nd championship in the last 3 years makes them the favorite to win the division. The Blackhawks made very few changes to its lineup and that is perhaps its greatest strength. This is a team that doesn't have to get used to new faces or new systems. The team is a terrific mix of skill, size and speed that overwhelms opponents and when the pretty plays are not working it can switch gears and play a physical brand of hockey that few teams in the NHL can match. Led by the duo of Jonathan Toews and Patrick Kane as well as unsung star Patrick Sharp and savvy veteran Marian Hossa, Chicago has plenty of offense to keep opponents occupied. These players not only light the lamp but they're responsible defensively as mandated by Joel Quenneville's tough forechecking system. Chicago surprised some by forking out the money for the Stanley Cup playoffs clutch hero in 4th liner Bryan Bickell, who earned a hefty raise after tallying 9 goals and 17 points in the post-season. Rookie forward Brandon Saad played well beyond his years last year and Chicago hopes he builds on that campaign with an even better sophomore campaign. Forwards Andrew Shaw, Marcus Kruger, and Bickell combine speed and grit and enjoy making life miserable for opposing clubs. On the backend, the Blackhawks are about as deep as any blueline in the league. Duncan Keith and Brent Seabrook are a well rounded pair that have the ability to move the puck up the ice efficiently to Chicago's cadre of skilled forwards but also can shut opponents down. Niklas Hjalmarsson is a shot blocking machine and underrated Johnny Oduya are a great 2nd pair tandem. Between the pipes Corey Crawford is coming off one of his best seasons and while he certainly gets plenty of goal support he enters this season with the confidence that he's the undisputed #1 goaltender of this team.
Weaknesses: There isn't a lot to speak of here, but some of the departures could have an effect. Chicago did lose one of its better secondary scoring threats in Viktor Stalberg who was signed by Nashville. Stalberg is that rare combination of size, speed and skill and had the ability to jump up and be effective on the 2nd line if the team needed him. Sort of replacing him in the lineup is another big, but reasonably fast and skilled forward in 6'6", 221lbs Jimmy Hayes. The other roster change that could have the potential to diminish the Blackhawks was the loss of Ray Emery as backup goaltender. While Chicago brought back the 'Bulin Wall' in Nikolai Khabibulin, you have to factor in that Corey Crawford is going into this season knowing he's the #1 goalie. Crawford bided his time patiently in the minors, waiting for his chance and he finally got the big gig last year. Ray Emery did a fantastic job, in fact statistically he was better than Crawford, and did a nice job of pushing Crawford to be at the top of his game. Will Crawford be as good without Emery there to force him to be at his best? While that may sound as I just contradicted myself it really all comes down to how well Crawford handles this situation. Chicago is the kind of team that usually does not need Crawford to steal games as it buries enough pucks to make even an 'ok' game from him good enough to earn a win.
Bottom Line: It should not be a big surprise that the defending Stanley Cup champions are at the top of the new Central Division. They have a terrific combination of youth, experience, size, speed, skill and grit to make them a strong pick to repeat. The way to the top of the division has to go through them and I don't see any team that can really challenge them for that, yet. If facing this team was tough, what fans need to consider is that this team also has a terrific stable of prospects as well meaning they can replace players with their own pipeline of talent, simply put this team has it all. Prediction: 1st in Central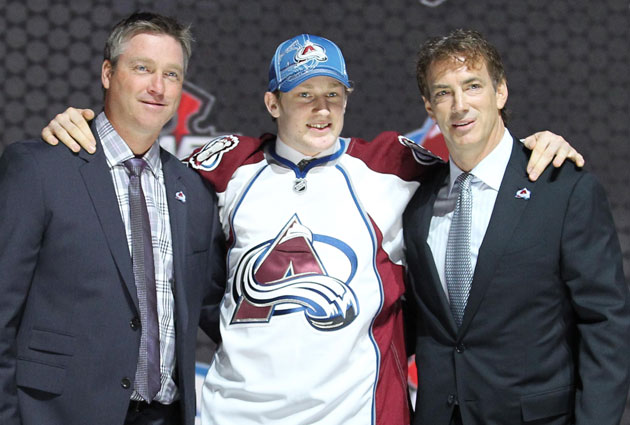 Colorado Avalanche
Arrivals: Nathan MacKinnon, Cory Sarich, Alex Tanguay
Departures: David Jones, Shane O'Brien
Strengths: The Colorado Avalanche are hoping for some Quebec Nordiques-like talent hording will finally pay off for this team to finally take the step of becoming a NHL powerhouse. After another awful season the Colorado Avalanche were bad enough to win the draft lottery to take wunderkind Nathan MacKinnon 1st Overall. MacKinnon, has all the tools you can want in a forward. Speed, good strength, tremendous hustle and a knack for scoring in the clutch he has all the hallmarks of being an NHL star. Yet, Colorado fans have heard this story before with Gabriel Landeskog and Matt Duchene. The hope is that with Patrick Roy, the same man who turned a collection of highly touted young Quebec Nordiques talent into a Stanley Cup champion just after their arrival to Colorado that he can do the same as bench boss. Patrick Roy is no stranger to coaching as had that role as the coach / owner of the Quebec Remparts in the QMJHL. Roy understands the pressure that comes with such high expectations and he will try to focus this collection of young talent to live up to its potential. Landeskog is a great leader and plays a strong two-way game, while Duchene is a sublime talent who can both set up his teammates or bury the buscuit himself. Veteran Paul Stastny, almost an afterthought on this team will likely be the club's 2nd line center. Ryan O'Reilly is another great two-way talent, and after a long holdout in a shortened season should give Colorado a ridiculous amount of talent down the middle as he will be anchoring the 3rd line. Where does that leave MacKinnon, according to the Hockey News its the 4th line but I think that would be a waste for a kid of his ability. Expect one of these players (Stastny, MacKinnon) to be moved to the wing. P-A Parenteau gave Colorado the finisher it had always wanted, but unfortunately the rest of the team underperformed around him. Steve Downie, Cody McLeod and Jamie McGinn will try to provide the grit and tenacity the Avalanche need. Between the pipes, Semyon Varlamov had a reasonably good season and perhaps with a little better play in front of him he can take that next step towards becoming an elite netminder.
Weaknesses: Its all about Colorado's defense. The Avalanche blueline, once a source of tremendous strength back in the day with Rob Blake, Adam Foote, Sandis Ozolinsh and Ray Borque has steadily degenerated into a group of young players not skilled enough to provide offense but not solid enough defensively to really help out their goaltender. Many though Colorado might be more active in free agency to bring a high level defenseman to the team, or take its 1st Overall selection to pick a franchise blueliner but it instead opted for another skilled forward. The unheralded workhorse Jan Hejda and oft-injured Erik Johnson lead Colorado's still suspect defense. Tyson Barrie and Stefan Elliot move the puck well, but are not known to be great players in their own zone. Colorado hopes Cory Sarich can provide some of the sandpaper it lost with the departure of Shane O'Brien but as good up front as the Avalanche are their continued ignorance of its problems on the backend could very well be its undoing.
Bottom Line: As much as one would like to think you can simply be so good at forward that you don't have to worry about your defense, the Avalanche are going to try that formula once again despite the fact it has failed miserably the last few seasons. I think Colorado will certainly be a fun team to watch from time to time, but I also see its defense being shredded by more complete clubs that will have this organization once again in the draft lottery. Prediction: 7th in the Central
Dallas Stars
Arrivals: Tyler Seguin, Shawn Horcoff, Sergei Gonchar, Rich Peverly, Valeri Nichushkin, Dan Ellis
Departures: Loui Eriksson, Erik Nystrom, Philip Larsen, Tom Wandell, Richard Bachman, Reilly Smith
Strengths: New faces, new logo and jerseys, new management, and a new coach. No one can say the Dallas Stars didn't at least try something different this summer. The Stars made a number of huge splashes this summer, sparked by the firing of Joe Nieuwendyk as General Manager and his replacement in the very well respected Jim Nill who came from Detroit. Nill is seen as a super savvy hockey mind as brought up in the Detroit Red Wings' winning culture, and he wasted little time re-shaping the team. Most notably is the immature but still tantalizingly skilled Tyler Seguin from Boston. Seguin has the tools to be an NHL star but has never really gotten the chance to be the go-to guy when he was with the Bruins. Seguin's addition gives the Stars a skilled centerman to work with the talented Jamie Benn who has the potential to be one of the league's top scorers. The Stars also have an interesting collection of veterans like Erik Cole who disappointed after his trade from Montreal, as well as Ray Whitney who is still a very effective player even though he's over 40 years old. Alex Chiasson had a tremendous debut towards the end of the season and he combines speed, skill and a scorers touch and he will get every chance to prove he can do it over the course of a full-NHL season. Another youngster, who will likely be on Dallas' top six is rookie Valeri Nichushkin. Nichushkin looked like a man amongst boys at the team's prospect camp this summer and he has already played a few seasons against grown men in the Kontinental Hockey League in Russia. The Stars' foward group also has lots of young grit as well in forwards Cody Eakin, Ryan Garbutt and the super annoying Antoine Roussel. It will be up to veteran bench boss Lindy Ruff to get this forward group living up to its intriguing potential. On the blueline Dallas added veteran Sergei Gonchar to anchor its blueline and they are hoping his arrrival will spark Alex Goligoski to start living up to the hype when the team traded for him a few years ago. Stephane Robidas is an underrated physical presence on the defense for Dallas and Brendan Dillon was a revelation as a stay at home force. Between the pipes it begins and ends with Kari Lehtonen who can be absolutely stifling when he's on his game. His health could very well determine how well Dallas does this season.
Weaknesses: I think the amount of new faces; in all aspects of the organization could make for a slow start in big D. Lindy Ruff will bring a new system and while in a way that will put all of the players on the same page of the learning process, it still means that all of them will have to become accustomed to it and that can sometimes take time. Losing Loui Eriksson, who was a very consistent offensive player, not to mention a shootout ace hurts Dallas offensively. Tyler Seguin, as talented as he is (when his Twitter account isn't being hacked) has yet to really be the superstar talent some thought he'd be when he was drafted. If Seguin can't keep the off-ice distractions down, he could become a curse. The team is going to lean heavily on young players to fill key roles up front and on its blueline. Shawn Horcoff was a terrible disappointment after securing a big contract shortly after Edmonton's Stanley Cup run, and the Stars traded for him hoping he'd be a leader for this club. Perhaps Jim Nill had forgotten that Edmonton has languished near the bottom of the league standings for the last few seasons with Horcoff as captain so is he really the kind of guy you want to mentor this group of youngsters? With Kari Lehtonen's health always a bit uncertain the Stars did not buy themselves a top of the line insurance policy when they only added Dan Ellis to be his backup. Ellis has bounced around the league, partly due to his own inconsistent play and that does not seem like a great 'Plan B' if Lehtonen's health again falters.
Bottom Line: I think Dallas will be a very streaky team, both good and bad this season as they figure out how to play for Lindy Ruff. The Stars collection of grit in its bottom 6 will make them a pain to play against but I don't think they have quite enough firepower to earn a playoff spot. Prediction: 5th in the Central
Minnesota Wild
Arrivals: Matt Cooke, Nino Niederreiter, Keith Ballard
Departures: Cal Clutterbuck, Devin Setoguchi, Matt Cullen, Pierre-Marc Bouchard, Tom Gilbert, Justin Falk
Strengths: The team's core basically has a season under its belts, and that consistency should serve it well to start the 2013-14 season. Zach Parise and Mikko Koivu worked fairly well together and they will again be looked to be the driving force for the team offensively. The team is also banking that Jason Pominville, Dany Heatley along with youngsters Jason Zucker and Charlie Coyle will provide the majority of the secondary scoring to help improve what was the league's 22nd best offense last season. On defense, Norris-trophy candidate Ryan Suter led the league in ice time but was a giant source of stability at both ends of the ice. His partner, Calder-trophy candidate Jonas Brodin was cool and collected and Wild fans are extrmely excited about his potential as he seems to have star potential. While Brodin makes Wild fans happy, many were not happy the team chose to part ways with fan favorite Cal Clutterbuck and ostensibly replaced him with the much reviled Matt Cooke. Yet, Cooke is a proven NHL commodity. He's older, 34 years old, but he's demonstrated he's capable of chipping in offensively as well as being a solid penalty killer. The team is also hopeful that Marco Scandella can be the solid 2nd pairing defenseman along with his cohort Jared Spurgeon who had teased Wild fans with some flashes of offensive ability that the club failed to get from Tom Gilbert. Between the pipes, the Wild chose to bring back the fairly consistent Niklas Backstrom for a few more seasons while Josh Harding will be his backup.
Weaknesses: As you perhaps noticed in what I stated above, the Wild are resting a lot on 'hopes' and 'ifs'. Particularly at 2nd line center where the team will likely experiment between youngsters Charlie Coyle who has never really played Center since his days at Boston University and Mikael Granlund whose NHL debut last season was profoundly disappointing. It wouldn't be so bad if the Wild's top line scored at an elite level, but it does not. Its' a fairly good scoring line, but the team really needs its 2nd line to find a way to light the lamp and if Coyle or Granlund can't do the job the team really doesn't have much of a 'Plan B.' Kyle Brodziak is coming off a very disappointing season and ever since earning a bigger contract he doesn't seem to have that same sense of desperate urgency that would imply he's ready for such a job and this is where the loss of Matt Cullen really hurts. Even if the Wild were going to place a youngster in that 2nd line center role, Cullen was your perfect insurance policy but the team didn't want to pay him what he was asking for so they let him go into free agency even though by all accounts he very much wanted to stay. Another 'if' the Wild are banking on is that Nino Niederreiter can find his scorers touch at the NHL level. After languishing with the New York Islanders, who had all but banished him to their AHL affiliate in Bridgeport the Wild are 'hoping' the former 5th Overall pick (2010) can make it work. Niederreiter has the tools to be great; fast, strong, skilled and doesn't mind physical play but so far it hasn't worked out. When you consider a player with that kind of skillset couldn't make it with the Islanders, a team that really doesn't have a lot of star calibre talent beyond stud John Tavares it makes you wonder a bit whether the Wild are expecting too much. Clutterbuck's hits will also be sorely missed and while Cooke and Niederreiter were brought in to replace him, neither has the penchant for dishing out checks like Clutterbuck did. The Wild are again 'hoping' the trade off from Clutterbuck hits will be repaid by perhaps a bit more goals from those two. Lastly, the Wild do not really have a lot of potential help from the farm as it did last season. With Zucker, Coyle and perhaps Granlund playing up with the big club there really isn't much left in Iowa that you could say is waiting in the wings in case injuries become a problem. Also, if the Wild struggle expect Head Coach Mike Yeo to really be feeling the pressure from the media as well as fans and management as this organization has invested way too much to be an underachiever. Lastly, as good as Koivu and Parise have been together the team really needs Mikko Koivu to produce (goal-wise) more akin to the level of a 1st line center. Especially as the team's captain he should be aiming for the 20-25 range instead of the 13-16 range as he has the last few seasons. Parise can't carry the top line all by himself (which at times he attempted to do last year).
Bottom Line: The Wild seem to be destined for another dangerously close trip to the bubble. Minnesota got to the playoffs last season by the smallest margin possible last year, and anything less than the post-season will bring about major changes to the Wild in more ways than one. The clock is ticking on the Wild, as its core players are in their prime and it can't afford to waste seasons with just the 'hope' of being good enough. Its time the Wild be good enough. Prediction: 3rd or 4th in the Central
Nashville Predators
Arrivals: Matt Cullen, Viktor Stalberg, Matt Hendricks, Eric Nystrom, Seth Jones
Departures: Sergei Kostitsyn, Brandon Yip, Matt Halischuk
Strengths: Last summer, Music City had to deal with the pain of losing one of its best defenseman in Ryan Suter in free agency. Their pain was rewarded, unexpectedly in this year's draft when the highly touted prospect Seth Jones fell to them (4th Overall) this summer. Jones will likely make the immediate jump to the Predators' lineup and while he may not be placed on their top pairing yet to work with the team's leading scorer from last year, Shea Weber its really just a matter of time. The fact Weber was the Predators' leading scorer was a big reason why they had such a rough 2012-13 season. Goals have always been hard to come by in Nashville, an organization that operates under its own salary cap which has limited its ability to make big moves in free agency and that has left them a bit light in goal scoring. The team tried to address those scoring needs a bit this summer by signing Viktor Stalberg from Chicago as well as Wild forward Matt Cullen who should anchor the Predators' 2nd line or 3rd line. Stalberg has terrific potential, and only because he played on such a deep team in Chicago he did not recieve much in the way of power play time. He will give Nashville both speed, size, and scoring all of which Nashville needs. Cullen will give the Predators scoring as well as versatility, not to mention an ace in the shootout. Healthy seasons from Patric Hornqvist and Colin Wilson will also help their scoring woes as well. Big things will also be expected from youngster Filip Forsberg who was acquired in the Martin Erat trade. Pekka Rinne had an ordinary season by his standards and will be looking to rebound. As his backup the big-bodied European goaltender factory has another big protege in 6'5" Magnus Hellberg who has played well at the AHL level. The Predators added some grit to its bottom six with Blaine's Matt Hendricks and former Wild winger Eric Nystrom. Hendricks and Nystrom will join a Nashville team that likes making opponents miserable with a tenacious forecheck.
Weaknesses: The big question is did Nashville do enough to address its offensive woes. Neither Stalberg or Cullen have been big time scorers and that is really what Nashville lacks, that go to offensive scorer. So once again it will be scoring by committee. Can Jones help revive the Predators' power play which was 17th in the NHL last season? The Predators need to stay healthy, especially in their top six if they want to have a chance at unseating the top teams in the division.
Bottom Line: The Predators will again be a scrappy team that opponents hate playing against, but the question is will they have enough scoring to win those close games or will the team will the team wish it had done more? Prediction: 3rd or 4th
St. Louis Blues
Arrivals: Magnus Paajarvi, Derek Roy, Maxim Lapierre
Departures: David Perron, Andy McDonald, Kris Russell
Strengths: The Blues are a solidly built club with good scoring depth and a collection of big-bodied forwards that make them a nightmare to match up against. Led by team captain David Backes, the Blues are not a team with a lot of elite offensive firepower but they roll three lines that can score. Chris Stewart had a bounceback season last year and Vladimir Tarasenko demonstrated some tremendous scoring touch before he was humbled by concussions. Alex Steen and Christian Berglund both are strong on the puck and can light the lamp. The addition of Derek Roy gives St. Louis another solid offensive presence to their top 9. Defensively the team has great depth with a mix of veterans in Jay Bouwmeester and Jordan Leopold along with talented youngsters Alex Pietrangelo and Kevin Shattenkirk. Between the pipes, St. Louis still has one of the best tandems in the NHL in Brian Elliott and Jaroslav Halak who basically trade off being the #1 goalie.
Weaknesses: The Blues may be a physically punishing team, but they lean heavily on Ken Hitchcock's defensive system to keep games fairly low scoring. Ken Hitchcock is entering his 3rd season with the club and in the past that is about the same time he has worn out his welcome. If the Blues make the playoffs but again fail to do much in the post-season will Hitchcock be out of a job?
Bottom Line: The Blues should be one of the better teams in the division, but will it have enough to knock Chicago off of its perch? Prediction: 2nd in the Central
Winnipeg Jets
Arrivals: Devin Setoguchi, Michael Frolik
Departures: Antti Miettinen, Mike Santorelli
Strengths: The sound you just heard could've been a rabid bunch of Winnipeg fans that have made their way to your local arena. Central Division teams should expect to see Jets clad fans all over, and making their presence heard throughout this season. The Jets are a scrappy hard working team that may not 'wow' you on the stat sheet but they can surprise you with a big outbust once in a while. Blake Wheeler, Evander Kane and team captain Andrew Ladd lead the charge offensively. Bryan Little and former Wild winger Devin Setoguchi will be looked to provide secondary scoring. On the blueline, the Jets are led by the athletic big bodied Dustin Byfuglien and his partner in crime Tobias Enstrom who provides safe and steady play. Zach Bogosian got a nice payday this summer and more is expected of him at both ends of the ice.
Weaknesses: Unlike the other teams in the division, Winnipeg does not have any familiarity with their opponents who are all traditional Western Conference foes. Also, Winnipeg / Atlanta had been playing in one of the weakest divisions in hockey for years and still couldn't qualify for the post season and its hard to imagine that they suddenly will have more success in what will be a very physically punishing Central division. The Jets lack the scoring depth that many of the other clubs have and making matters worse they do not have the type of defense that shuts opponents down. Ondrej Pavelec is notoriously inconsistent and his backup, Al Montoya, was only marginally better in a just a handful of starts last season.
Bottom Line: Winnipeg is too inconsistent to really challenge in the division this season. This team will be scrappy and opponents will learn what a hostile environment MTS Centre can be, but at the end of the day Winnipeg will miss the playoffs for a seventh straight season. Prediction: 6th in the Central