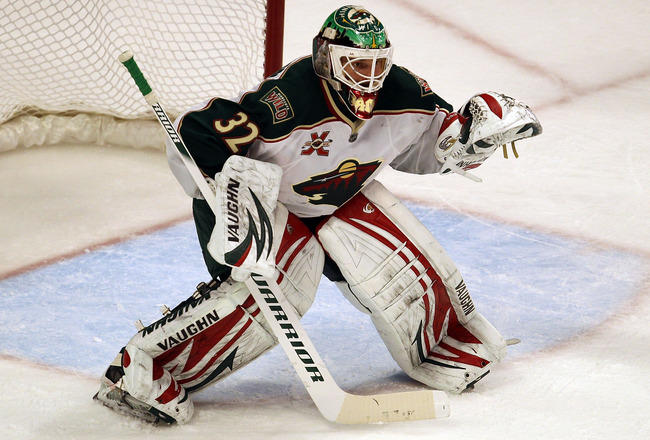 In the playoffs, its an inevitable cliche that will be said again and again. A team can often go only as far as its goaltender will take it. A 'hot goalie' can help teams overcome deficiencies in their offense and defenseman and are a must for any team hoping to be a Stanley Cup contender. Yet, when it comes to the draft you also hear the axiom, "never draft a goaltender in the 1st round" because they're often so speculative that the potential to 'miss' is higher. The Minnesota Wild (currently) do not have to worry about that as they do not have a 1st round pick in this year's draft. Goaltending is perhaps the one area of the organization that has consistently been a source of quality for the Wild. From its expansion draft selection of Manny Fernandez, to its savvy free agent signings of Dwayne Roloson, Jose Theodore and Niklas Backstrom the Wild have done a decent job at least having an above average to good goaltender in its crease. But let's face it, its had to if it wanted to be competitive. Because just as good as the goaltending has been, the offense has been fleeting at best putting a lot of pressure on the goaltender to give the club a chance to win most nights. Goaltenders Darcy Kuemper (left) and Johan Gustafsson (right) are promising but are either the heir apparent to Niklas Backstrom?
It remains unclear whether the Wild will keep incumbant starter Niklas Backstrom who is a 35-year old unrestricted free agent this summer but this could very well be the deciding factor over just how urgent it will be to draft another goaltender. The team does have a few quality prospects between the pipes to go along with Josh Harding who was this year's Masterton Award winner for perseverance as he hopes to get his shot as a #1 goalie all while battling Multiple Sclerosis. With the prospects getting closer to primetime there is perhaps a need to sign someone to be ready to in a few more seasons and there are some intriguing goalies out there. So which goalie should the Wild go after?
Click on "Continue Reading" for the rest of the article…
For all of these articles I thought a long time about what I felt the team's organizational strengths and weaknesses were. Especially after limping into the playoffs with one of the best collections of talent in franchise history the examination wasn't easy. I really found myself conflicted over what I felt the Wild needed the most. I have my own personal preference, but I understand the team may think otherwise. So the biggest needs from an organization perspective for the Wild are the following 3 things.
1. The team needs a physical (i.e. mean) stay at home defenseman to make it more difficult for opposing teams in our zone and give our blueline a much needed edge to its game.
2. The team needs speedy forwards with decent finishing ability. I have been saying that for years, but in my opinion the team has still not addressed this problem and hopefully after this year's experience they will feel they cannot ignore it any longer.
3. The team needs another quality goaltending prospect to keep their pool of good young goaltending prospects deep. The team traded away Matt Hackett, but still has Darcy Kuemper and Johan Gustafsson but could use another quality puckstopper.
The Wild's present picks in this year's draft.
#46
#70
#81
#107
#137
#167
#197
So this article will look at the defenseman that will be available when the Wild go to make their first selection (at least to this point) at #46 in the 2nd round of the draft. If I am the Minnesota Wild, keeping in mind what intangibles the current group of prospects is lacking this is who would be on my draft board and they are players that could very well be available when the Wild go make their selection.
I have looked at numerous websites and scouting publications to put together a Top 5 list of players that I think would fit the Wild's needs the best. So using information I have gathered from International Scouting Services, NHL Central Scouting, the Hockey News, and Hockey Prospect.com I hope to provide you a quality analysis. Let's begin.
Goaltenders
1. Tristan Jarry (Edmonton, WHL) Height: 6'0" Weight: 148lbs Catches: Left
ISS rank: 2nd The Hockey News' rank: 68th NHL Central Scouting's (NA) rank: 3rd
2012-13 Stats: 27GP (18-7-0) 1.61GAA .936%SP 6 SO
Talent Analysis: Tristan Jarry was a backup to Laurent Brossoit this season, but when he got his opportunities he was rock solid for the Oil Kings. He certainly will need to add bulk to his slight (148lbs) frame, but he is already a very technically sound goaltender. Jarry is very efficient in his movement and squares up to shooters quickly as well as showing good antipation reading offensive chances with an almost clairvoyant type of hockey sense. He has a decent glove and does not overcommit. The 6 shutouts really jump out at you but it should be noted that Edmonton was one of the best teams in the WHL all season long, but even then his stats are quite respectable. It will be interesting to see if Brossoit decides to go pro and to see if Jarry can prove that he is not just a one-season wonder.
2. Juuse Saros (HPK Jr., Fin. Jr.) Height: 5'10" Weight: 178lbs Catches: Left
ISS rank: 11th The Hockey News' rank: N/A NHL Central Scouting's (European) rank: 1st
2012-13 Stats: 37GP 1.86GAA .933%SP
Talent Analysis: Lately the trend for NHL goaltenders has been bigger athletes. Most teams have netminders that are 6'2" or taller who can cover an awful lot of area just from their sheer size. Juuse Saros is a rare example of a smaller goaltender that can overcome that inherent disadvantage. He is fantastically quick from post to post and his leg movement is tremendous. He can drop down in the butterfly in an instant as well as pop back up to his skates to be able to move in his crease efficiently and effectively. Saros has a tremendously good glove and his athleticism is so good you often forget that he's undersized. At times his rebound control is a bit suspect, but he's so fast in his recovery he often makes the secondary saves as well mitigating that threat, but it will still be an area of his game he must improve if he expects to thrive in the NHL. If the NHL is actually serious about shrinking down goalie equipment (we'll believe it when we see it, literally) Saros is a player that would be less effected by such a change. Many scouts believe that if he was just a few inches taller he'd be the consensus top goalie available in this draft so the potential to get a steal is certainly there.
3. Spencer Martin (Mississauga, OHL) Height: 6'2" Weight: 192lbs Catches: Left
ISS rank: 5th The Hockey News' rank: 60th NHL Central Scouting's (NA) rank: 5th
2012-13 Stats: 46GP (17-21-4) 3.02GAA .906%SP
Talent Analysis: Martin is more of your prototypical big bodied goaltender NHL fans have grown accustomed to seeing. The Steelheads were a team that was just able to scratch their way into the playoffs and Spencer often found himself under siege and forced to try to steal games for his club. Martin had a strong start to the 2012-13 season but then his game started to tail off a bit in the 2nd half. Scouts seem to have a wide variety of opinions on Spencer, with some saying they love how he never gives up on a puck to others feeling he's too much of a slave to the butterfly style and that he doesn't read the play well enough. However almost all scouts feel he's a very solid NHL goaltender prospect who will get even more time in the crease next season as the overager (Tyson Teichmann) he backed up is moving on.
4. Eric Comrie (Tri-City, WHL) Height: 6'1" Weight: 170lbs Catches: Left
ISS rank: 6th The Hockey News' rank: 32nd NHL Central Scouting's (NA) rank: 2nd
2012-13 Stats: 37GP (20-14-3) 2.62GAA .915%SP 2 SO
Talent Analysis: Comrie is the half-brother of former NHL forward Mike Comrie. The goaltender has average size, but that really is the only thing average about him. He plays a very energetic game he is an active goalie who loves to play the puck and might remind Wild fans of South St. Paul's Alex Stalock. He moves very well from post to post, and while at times he can look a bit unorthodox he has the athleticism to still square up and come up with the improbable stop. He loves to challenge shooters but has the hockey sense to not get caught out of position. Comrie did miss some time this season with hip surgery but scouts loved what they saw in his game and they project him to be a future NHL starting goaltender.
5. Alexander Belanger (Rouyn-Noranda, QMJHL) Height: 5'11" Weight: 159lbs Catches: Left
ISS rank: 4th The Hockey News' rank: N/A NHL Central Scouting's (NA) rank: 14th
2012-13 Stats: 44GP (24-13-1) 3.46GAA .875%SP 1 SO
Talent Analysis: Belanger is a goaltender who was leaned upon heavily for the Huskies this season. Rouyn-Noranda is a team that wants to be an aggressive, attacking team offensively so they let Belanger face the brunt of the opposing teams offense. Belanger did not disappoint, taking that increased responsibility and shutting the door so the Huskies could edge out wins. In fact, Rouyn-Noranda had so much confidence in him they shipped out their starting goaltender mid-season to give Belanger the #1 spot, which says a lot about how much trust he had from their coaching staff. Belanger's stats do not look as impressive compared to the rest of this list but it what you should focus on his wins. He always seemed to be able to make those clutch saves down the stretch as his team was hoping keep a lead and let's face winning is ALWAYS the most important goaltending stat.