'The Dream Team', a huge collection of NBA Hall of Famers that were brought together to represent the United States for the 1992 Olympics in Barcelona. Players like Magic Johnson, Larry Bird, Charles Barkley, Michael Jordan, Scottie Pippen, David Robinson, Karl Malone, Chris Mullin, Isiah Thomas, Clyde Drexler, John Stockton, Patrick Ewing and believe it or not Christian Laetner as well. Even though current Los Angeles Lakers' star Kobe Bryant might disagree it was the greatest collection of talent ever assembled for the ultimate international tournament. Ever since, I think sports has been obsessed with trying to assemble 'Dream Team's and now what is vogue is creating 'super conferences' and the Big 10 wants to remain one of the elite conferences in NCAA athletics. This unfortunately has extended to college hockey as Wisconsin Athletic Director Barry Alvarez decided to push for the creation of a Big 10 college hockey conference even though only 6 teams in the 12-team conference currently have Division I hockey programs.
The ever humble (sarcasm) Barry Alvarez, who hopes Big 10 college hockey will be a huge success
However, could this become Barry's folly? The shifting and moving of Big 10 teams into a single conference has caused a cascade of moves throughout the midwest and mountain areas of the United States as programs scramble to try to stay in the most prestigious conference they can. Yet if you look at the performance of the 6 teams who will make up the Big 10 the 'super' conference looks far from super with the lone exception of the #1 ranked Minnesota Golden Gophers (knock on wood). The NCAA, I believe is certainly rooting for the Big 10's success because they hope it might lead to an expansion of Division I college hockey and while you may think I'm crazy there are other 'big' schools with competitive club teams right now in Alabama, Utah, Oklahoma and Arizona State so who knows maybe we'll be hearing about the formation of a Pac-12 or SEC hockey conference as strange is it may sound. Yet in the meantime, the future Big 10 schools have struggled pretty bad this season so far. So how bad is it?
Click on "Continue Reading" for the rest of the article…
Terry Pegula's dream, Penn State hockey
A quick look at what the 'Big 10' Conference would look like would hardly make current power conferences like the WCHA and Hockey East really shake in their skates. I will also include their current conference placement as well. But prepare to be underwhelmed by the 'mighty' Big 10.
Minnesota ~ 16-3-3 (3rd in WCHA)
Ohio State ~ 8-9-5 (tied for 4th in CCHA)
Wisconsin ~ 8-7-5 (tied for 6th in WCHA)
Michigan State ~ 6-13-3 (8th in CCHA)
Michigan ~ 7-13-2 (tied for 8th in CCHA)
Penn State ~ 8-11-0
Only the Golden Gophers are playing like an elite team while the rest are struggling to stay near .500. So much for that 'big school' prestige eh? So what's happened with these teams this season? Here's a quick run down.
Minnesota Golden Gophers – The Golden Gophers are living up to expectations, carrying a #4 Pairwise ranking despite playing the fewest conference games of anyone in the WCHA (tied with 14 WCHA games along with Bemidji State and North Dakota). Minnesota did not fill up its non-conference lineup with shrinking violets and have made huge statement wins with a 4-1 victory over #5 ranked Notre Dame and an 8-1 demolition of #1 ranked Boston College. The Golden Gophers have a great balance of size, speed and depth throughout its lineup. Led by Florida Panthers' prospects' Nick Bjugstad and Kyle Rau as well as undrafted defenseman Nate Schmidt, Minnesota has more than enough offense to overwhelm opponents and with the solid performance of freshman goaltender Adam Wilcox the Gophers seem to be primed to stay near the top of the national rankings. Yet this is just part of the story, as Minnesota has 2 solid scoring lines which make them tough to match up against. But that is what you'd expect from a team that has 15 NHL drafted players on its roster. Wild prospect Erik Haula is the team's leading scorer, but that hasn't slowed the Gophers down much at all which is a testament to the strength of this team. Current Record: 16-3-3
Ohio State Buckeyes – The Buckeyes have muddled their way through this season splitting series throughout most of the 1st half of the college hockey season. Head Coach and Burnsville, Minnesota-native Mark Osiecki has managed to sweep CCHA and future Big 10 rival Michigan State this season but has also fallen 5-4 to Penn State who is in its first season of quasi-Division I hockey (more on that, later). Losing and tying against Atlantic Hockey's Robert Morris wasn't exactly a shining moment either. Ohio State doesn't have the go-to studs that other teams lean on so they've embraced a scoring by committee approach. Led by a pair of Ottawa Senators' prospects in Ryan Dzingel and Max McCormick who are both sophomores on a team that is fairly young. Minnesota-Duluth transfer Brady Hjelle carries the load between the pipes for the Buckeyes and has done a fairly good job with a 6-6-4 record to go along with a very impressive .952% save percentage which he has to keep because he knows his offensively challenged team is not going to provide much in the way of goal support. Ohio State currently has 6 players that have been drafted by NHL clubs and are currently ranked 24th in the Pairwise rankings. Current Record: 8-9-5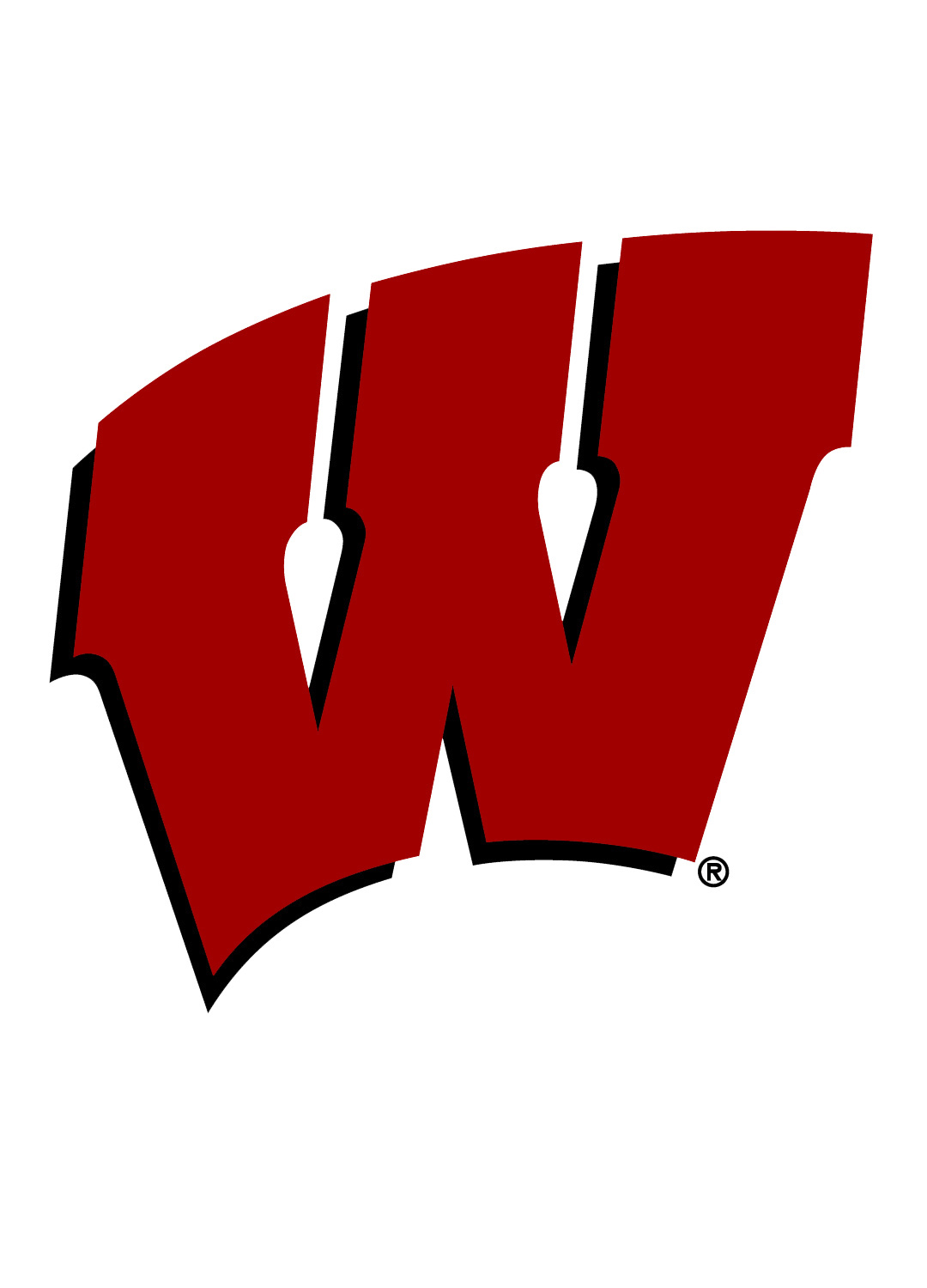 Wisconsin Badgers – There are signs that Wisconsin may be turning its season around as they are now in a tie with the Alaska Nanooks for 25th in the Pairwise rankings. After a brutal start where the Badgers sat near the bottom of the WCHA the club has rallied back and is on a 6-game winning streak which includes 3 consecutive series sweeps against Alabama-Huntsville, Alaska-Anchorage and Minnesota State respectively. So, not exactly against hockey's elite but games the Badgers should win. The Badgers lack offensive punch but they do have one players that can find the back of the net pretty well in Los Angeles Kings' prospect Michael Mersch (12 goals) who gets fed by the smallish but quick Mark Zengerle. Defensively the Badgers are not nearly as solid as they have been with the consecutive season advancements of wunderkind defensemen Brendan Smith and Justin Schultz to the pro's. Goaltending has also been an area of inconsistency and sophomores Joel Rumpel and Landon Peterson are still vying to become the full-time starter. Losing highly touted freshman Nic Kerdiles really stunted this team at the start, but perhaps the Badgers can now make a run of it. Head Coach Mike Eaves is still a tremendous recruiter, as 9 of his players have been selected by NHL clubs. Current Record: 8-7-5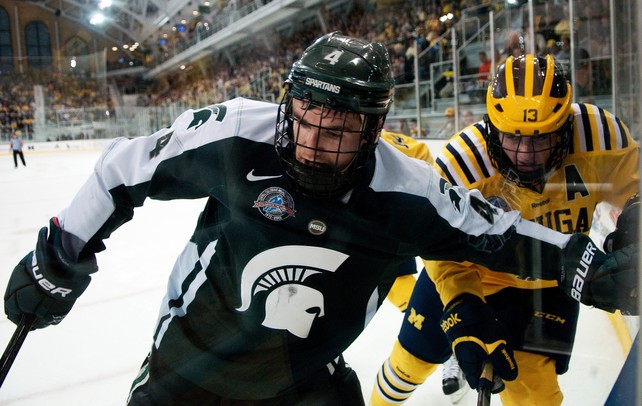 Michigan State Spartans – Its been an ugly year for the Spartans, who seem to take one step forward and two steps backward with each week. The Spartans lack of offensive punch has been a recurring storyline and while they have shown glimpses of their talent in wins over Michigan and Notre Dame being able sustain that momentum has been elusive at best. Head Coach Tom Anastos may have done great things for the CCHA as commissioner but as a head coach in Michigan State you can hardly say he's been dominant with a record just above .500 at 19-16-4 over parts of two seasons. The Spartans are a young team, led by sophomore Matt Berry (11 goals) and freshman and Calgary Flames' prospect Matt DeBlouw has been a nice boost to the offensively challenged lineup. Wild prospect defenseman John Draeger is one of the Spartans more consistent players on a shaky blueline, and the fact he's on the top pairing in his freshman year speaks volumes. Between the pipes, freshman Jake Hildebrand has been perhaps the best story for the Spartans all season posting an impressive 1.81 goals against average but when you consider that number goes along with a 4-8-2 record you can get an idea to just how bad Michigan State's scoring woes have been. The Spartans have faded a bit as a destination for the top prospects in college hockey as Michigan State has just 3 NHL drafted players on its roster. There is lots of work to be done in East Lansing. Current Record: 6-13-3
Michigan Wolverines – To say 2012-13 has been a disappointment for Wolverines' fans is a huge understatement. Disaster is probably a more accurate adjective to describe the painful performance of Michigan this season. Being swept at home this weekend by 25th ranked Alaska as well as losses to RIT, Michigan Tech, and tying and losing to Northern Michigan have all told the story of frustration for Wolverines' legendary bench boss Red Berenson. However, its not for a lack of star power in its roster. With 11 players on its roster that have been drafted by NHL teams, which makes it 2nd in the Big 10 behind Minnesota the team has the high profile athletes in Winnipeg Jets' 1st rounder Jacob Trouba (9th Overall) who is having a fine freshman season despite the team's struggles and quality 2nd rounders in Phil Di Giuseppe and defenseman Jon Merrill. Scoring has been an issue beyond the top line and Trouba; as senior A.J. Treais (10 goals) and Trouba (7 goals) lead the way. Goaltending has been a huge work in progress as the Wolverines have bounced from 3 different goaltenders this season in freshman Steve Racine and Adam Rutledge as well as junior Adam Janecyk. Current Record: 7-13-2
Penn State Nitany Lions – In Penn State's first season of near Division I college hockey the fledgling program has had mixed results. The program, more or less 'bought' by billionaire and current Buffalo Sabres owner Terry Pegula really provided the final push that allowed for the creation of the Big 10 college hockey conference. There have been some little victories with wins over Ohio State, Army, Air Force, RIT and Sacred Heart, but there have been stumbles too in losses to Division III Buffalo State, as well as club team Arizona State while also being swept by Atlantic Hockey's Connecticut. Especially in the wake of the Sandusky scandal, its going to be a real uphill battle for head coach Guy Gadowsky as he tries to attempt to lure top talent from other teams that have far more storied programs. If there is an advantage to being new is that you have a very young team, with 14 freshman on their roster it should come as no surprise that a pair of freshman Chase Bailey (9 goals) and David Glen (9 goals) lead the team in scoring. The Nitany Lions have just one NHL drafted player on their roster in Minnesota Golden Gophers transfer forward Max Gardiner playing on their top line. So far the Minnetonka-native has 2 goals and 14 points in 19 games. It will likely be a pretty rude awakening for Penn State when they get into a Big 10 schedule. Current Record: 8-11
Could Rutgers become a decent Big 10 college hockey program?
The Big 10 is also a conference that has been very aggressive in trying to add members as it positions itself to be a super conference in all sports not just college football. Maryland and Rutgers are set to join the Big 10 in 2014 but one of these schools just may be able to add a Division I college hockey program to the mix. The state of New Jersey has quietly produced a fair amount of high end talent in the last few years. Players like Bobby Ryan, John Carlson, and current Boston College star Johnny "Hockey" Gaudreau all hail from the Garden State. With no offense intended towards New Jersey's lone Division I program, Princeton perhaps if Rutgers had a team maybe this could be the destination of choice for players with NHL dreams. Rutgers does have a hockey program that plays in the club circuit (ACHA), you can see their website here. That is a team that is almost made entirely of New Jersey-born players so it might be more than just a pipe dream.
Two other Big 10 schools that are strong possibilities to add Division I hockey are Illinois and Northwestern. Illinois has also rather quietly become another nest of producing Division I talent for college teams throughout the midwest. A plethora of players; mostly from the area in and around Chicago are making their way to the NHL like John Moore (Winnetka), Tommy Wingels (Evanston), Al Montoya (Chicago), Craig Anderson (Park Ridge) and Mike Brown (Chicago) just to name a few. Perhaps with either the Illinois or Northwestern hosting a team those players stay a bit longer in the Land of Lincoln.
The Big 10 college hockey conference doesn't thrill me. I love the WCHA and I think its sad that its getting torn apart. I loved seeing smaller schools that compete at lower levels in other sports stand up to the big schools. Its part of what made college hockey great. A big school didn't necessarily guarantee success as we've seen in the profiles listed above. However, money was apparently too good to pass up and many different universities (especially those with quality club teams) will be watching the Big 10 college hockey experiment closely. If it takes off, perhaps those schools will offer college hockey and that would help to raise the profile of the game in the United States considerably. However, its got a long way to go before that happens.