I'll make a confession. I love science fiction. I always have. Last night I was watching Sci Fi and saw a movie called Outlander starring Jim Caviezel, Sophia Myles and Ron Perlman. To give you a super brief plot summary, Jim Caviezel (Kainen) plays a man from a far off world whose space ship crash lands in the middle of a Viking Kingdom. Kainen's ship had two nasty 'passengers' in these nasty beast aliens called Moorwen. The Moorwen can kill humans with tremendous ease and Kainen worked with the local Vikings to try to kill the beasts. It didn't work out so well. The Vikings' iron weapons were no match for the tough bodies of the Moorwen and until Kainen salvaged some metal from his crashed space ship to be forged into new weapons all he his fellow Vikings could do was frustrate themselves and die. As I thought about the Wild game this late afternoon against the San Jose Sharks, it dawned on me that this was a similar challenge. The San Jose Sharks are just like the beast, powerful offensively with a strong defense. Are the Wild going to show they are playing with weaker iron weapons or will they demonstrate an ability to strike using something stronger than their normal pop-gun attack?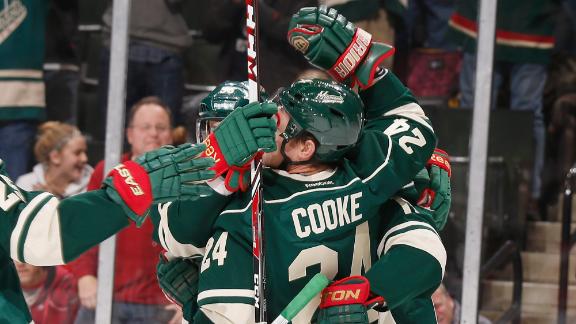 Will the Wild team that slayed another 'beast' in Chicago on Thursday show up today or will it be the one that was embarassed by Columbus on Friday night? Minnesota has had a little time to re-focus, but so has San Jose. I expect the game to end a lot like the movie; where it comes down to the bitter end where both the hero and the beast were nearly killed. So which team will slay the other?
Click on "Continue Reading" for the rest of the article…
1st Period Thoughts: Vastly improved effort to start the game than the had on Friday night. The Wild were hustling well, and out working the Sharks along the boards. Minnesota was also smarter on its breakouts out of the zone, only utilizing the boards and glass and a last resort avoiding giving away the puck needlessly. The Wild were also being responsible defensively as they helped support their goaltender Josh Harding sweeping away rebounds. Harding was fighting the puck by his standards, giving up some rebounds and was having trouble tracking the puck as he appeared to be surprised by a few shots you would not expect if he was seeing the biscuit well. The Wild's top line would cause a little havoc by keeping things simple and throwing the puck on net and then crashing the crease. The initial attempts were reaching Antti Niemi, but the rebounds kept eluding the Wild. The Wild had just one penalty, as Charlie Coyle earned a holding penalty as he battled Jason Demers for a puck along the wall. Minnesota's penalty kill was excellent, challenging the Sharks' entry into the zone and never really allowing San Jose to get comfortable and set on man advantage. Minnesota still had trouble finding time and space in the offensive zone, only able to register 3 shots on goal. The Wild's best opportunity came off the rush where Dany Heatley found a little space behind the Sharks' defense for a 2-on-1 with Coyle where Heatley fired it on goal himself that drew a rebound from Niemi and Heatley would push a shot just wide of the mark. I thought the Wild had a good period despite being outshot 11-5. I thought the Wild had a good first period from defenseman Marco Scandella and Ryan Suter who continues to be a total workhorse on the backend for Minnesota logging over 10 minutes of the 20-minute period.
2nd Period Thoughts: I am not sure if you could say it was a great period for the Wild. Yes on the surface, the Wild got a some goals, which I'll talk about later but overall they did not execte nearly as well as they did in the 1st period. Minnesota was turning the puck over in the neutral zone, and using the boards more frequently which meant they were spending a lot of time chasing the San Jose skaters for possession of the puck. Coyle would end up in the sin bin early on a weak hooking call. Minnesota's penalty kill again stepped up in a big way, aggressively challenging the Sharks' puck carriers and not really allowing San Jose to get established in the Wild's zone. With another power play thwarted, the Wild went back on attack and some lucky 'non-calls' went in Minnesota's favor. The first of which was a slash by Zach Parise who knocked the stick out of the hands of former White Bear Lake Bear Justin Braun and as he had to track down his lumber the pesky forward worked his way toward the front of the net, and as he neared the crease Antti Niemi was bumped into by Jason Pominville and it was Parise swinging home a shot. Niemi was a little outside of the blue paint in front of the net, but I've seen goaltender interference calls made there before, but despite a long discussion by the officials it was 1-0 Wild. A few minutes later the Wild would add to its lead as a little pass by Heatley was picked up by Jared Spurgeon who raced across the blueline before sliding a drop pass back to Mikko Koivu who let the defense move off before he unleashed a heavy wrist shot that beat Niemi high blocker side, 2-0 Minnesota. It was at this point the Wild sort of let the rest of the period go into cruise control. Minnesota was sloppy with its passing and the turnovers allowed San Jose to really tilt the play into the Wild end. Even a Wild power play; did not really help as Minnesota's lethargic execution never allowed them to get set up and the Sharks tried to work some shots shorthanded. Luckily for the Wild Josh Harding would step up big time, making a bunch of quality saves. His stops of Joe Pavelski and rookie phenom Tomas Hertl were really clutch. MInnesota was scrambling a bit in its own end and Harding continued to come up with stops; including a head first dive to stop a shot taken from the point that was bouncing towards a gaping net. Nino Niederreiter would put his shoulder down and motor around a San Jose defenseman for a close in chance, but unfortuantely no one was able to pounce on the rebound but the effort drew a holding the stick call on Stuart. The Wild would get a power play late, but beyond the goal scoring it was a period where the Wild were really dominated by the Sharks as evidenced by the fact they were being out shot 32-11. Minnesota must be smarter with the puck if it wants to come away with a win in regulation against the Sharks. Harding is playing very well but you don't want to keep rolling the dice like this either.
3rd Period Thoughts: The Wild would go into lockdown mode in the 3rd period. They were far more disciplined and denying time and space to the Sharks and the result was far less prime opportunities given up. San Jose did have a good chance early on though; as Pavelski tried to set up Andrew Dejardins for a one-timer but luckily he fanned on the shot and that really was about as close as they got. I thought Keith Ballard had a real strong 3rd period along with Matt Cooke and Torrey Mitchell who were physical at the right times and dogged the Sharks all over the ice. The chippiness started to show itself as Charlie Coyle and former Wild 1st rounder James Sheppard started to chrip at one another. There was more pushing and shoving after the whistle and it will be interesting to see if this bubbles over when the two clubs face each other again on Thursday. Meanwhile the forcefield helping protect the Wild net seemed strong as Harding was sprawling in his crease with bodies all around the blue paint the puck just would not go in as Jonas Brodin and Suter would make saves with their goaltender down and out before it squirted out of harms way. The Wild were not trying to create almost anything offensively so they continued to dare San Jose to attack and their persistance would eventually be rewarded after they pulled their goaltender in the final two minutes. Patrick Marleau would bang home a rebound with about 1:40 left to cut the Wild lead in half at 2-1. This made for a dramatic final few seconds but it wasn't meant to be. Joe Thornton tried to direct it towards the front of goal hoping for a favorable deflection but it did not come and Ryan Suter would clear the zone. Ultimately it was Brent Burns' coughing up the puck to Parise who scored the empty netter to seal a 3-1 victory.
Josh Harding was outstanding, making 37 saves in the victory and he probably deserved his 4th shutout of the season. Harding rallied back after battling the puck early to really lock it down in a big way tonight. Harding got great support from his defenseman who were sweeping away loose pucks on a consistent basis as well as preventing the Sharks from having many uncontested looks. I thought the Wild got a paricularly strong performance from Keith Ballard who was physical and smart. Ryan Suter was also tremendous, logging 31:23 minutes of ice time tonight. The penalty kill was very good, where they totally shut down the Sharks' power play 3-out-4 times and then Harding stepped up to make a perfect 4-for-4 kills.
Offensively this was not a banner performance. The Wild had 3 goals on a paltry 13 shots. It may have been enough tonight but the Wild need to find mre ways to generate shots on goal. The power play was also a disaster, struggling to get set up but even when it did it did next to nothing, just passing the puck from point man to point man and not nearly enough pucks were being directed on goal. While I was glad to see Mikko Koivu take initiative and fire the puck, we need to see more of this from the Wild captain. It was good to see Zach Parise's hard work be rewarded with two goals tonight, but this team will have to dig deep in order to have a successful road trip.
It was a nice rebound game after a lousy game on Friday in Columbus. Another quality win against one of the best teams in the Western Conference always feels good but the Wild cannot afford to rest on its laurels. The Wild now venture out west to face three tough opponents in the Ducks, Sharks and Avalanche respectively. An x-factor may be the Wild's proficiency in faceoffs where the team has been dominating its opponents most nights, including against the Sharks winning 35 draws compared to San Jose's 29. Wild Head Coach Mike Yeo told reporters at the post-game press conference, "There are big bodies to work through, but we stuck with it." When asked about the team's 13 shots, he admitted the team was not good enough, but hopefully they are prepared to battle on Wednesday.
Wild Notes:
~ The roster tonight was as follows: Mikko Koivu, Zach Parise, Jason Pominville, Zenon Konopka, Justin Fontaine, Torrey Mitchell, Charlie Coyle, Nino Niederreiter, Dany Heatley, Kyle Brodziak, Matt Cooke, Erik Haula, Ryan Suter, Jonas Brodin, Marco Scandella, Jared Spurgeon, Keith Ballard and Clayton Stoner. Niklas Backstrom backed up Josh Harding. Nate Prosser and Mike Rupp were the healthy scratches.
~ The 3 Stars of the Game as selected by Wild TV were: 1st Star Josh Harding, 2nd Star Mikko Koivu, 3rd Star Torrey Mitchell
~ Attendance was 18,411 at Xcel Energy Center.
Wild Prospect Report:
Gustav Olofsson
D – Gustav Olofsson (Colorado College, NCHC) ~ The talented defenseman continues to play well beyond his years on the Tigers' top pairing as he helped his team to a 4-2 victory on Friday night collecting an assist and registering a shot on goal. Olofsson is
D – Carson Soucy (Minnesota-Duluth, NCHC) ~ The big-bodied defenseman played on the Bulldogs' 2nd pairing and taken advantage of his opportunity registersting an an assist and 3 shots on goal and earning a +1 rating.
LW – Mario Lucia (Notre Dame, H-East) ~ The skilled winger is starting to heat up as he had a big night for the Fighting Irish on Friday, lighting the lamp twice and adding a helper in Notre Dame's 5-3 win over Massachusetts. He would add one more goal in Saturday's 3-2 loss. Lucia's 9 goals make him the top goal scorer on the Fighting Irish.
C – Adam Gilmour (Boston College, H-East) ~ Gilmour has had to adjust to a new role with the Eagles, moving from 1st and 2nd line winger to now anchoring the 4th line at center. Despite the switch, he's still finding a way to get onto the scoresheet as he helped Boston College earn a 6-2 win over New Hampshire Friday night by registering an assist.
G – Alexandre Belanger (Rouyn-Noranda, QMJHL) ~ Some goaltenders are lucky to be blessed with a high octane offense in front of them. Belanger is one of those goaltender as the Huskies blitzed Rimouski 8-3 on Saturday. The athletic goalie had 25 saves in the win, improving his record to 14-7, with a 3.28 goals against average and an .876 save percentage.