If you're on Twitter, especially in the home stretch, injuries and illnesses that keep a player out of the lineup even for one game can appear to be magnified. At least by the fans they certainly are as fans delight that (insert player here) is out with the flu or a really nasty lower body injury (i.e. hangnail). But should fans and especially teams relish that kind of information? How many times have we seen the Wild or other teams who clearly should be outmanned by injuries actually play better and more determined hockey while supposedly being shorthanded talent-wise? I would almost argue, the Wild played their best system-style hockey when they were without Mikko Koivu and Zach Parise. The team stuck with a simple approach, knowing they needed to step up and they did. I think we saw that on Saturday with the Detroit Red Wings. No Henrik Zetterberg, no Pavel Datsyuk, no problem. Gustav Nyquist, Tomas Tatar stepped up and led the Red Wings to a victory over a desperate Wild team. Whether injury news spawns overconfidence in one team or the 'circle the wagons' mentality created by the other, injuries do not always mean instant spiral of doom out of the standings.
So why do I bring this up? The reviled Vancouver Canucks are coming to town and news of an injury to one of the members of the Children of the Corn, aka Henrik Sedin has some Wild fans feeling giddy. History has shown that sometimes the Wild buy into that news and end up horribly disappointed. Vancouver is a very desperate team. They need a lot of help to sneak their way into the playoffs and there is always oodles of pressure to succeed in that hockey mad market that is the 'left coast.' Can the Wild manage to ignore the Canucks' injury news and just devote itself to taking care of business by earning two points tonight?
Click on "Continue Reading" for the rest of the article…
1st Period Thoughts: The Wild really dictated the pace of play from the drop of the puck, attacking the Vancouver end with speed and looking to get pucks on goal. Minnesota would create a great scoring chance on its first shift as the top line of Mikael Granlund, Jason Pominville and Zach Parise would make their presence felt right away as Pominville found Parise with a long pass that sprung him for a near breakaway but he didn't have much space other than to chip a shot on goal that was stopped by Eddie Lack before Parise came sliding into his crease. The Wild were aggressive on the forecheck and Cody McCormick would force a penalty as Jason Garrison sent a puck up into the stands for a delay of game penalty giving Minnesota the first power play of the game. On the power play the Wild were again keeping it simple and executing well, using one-touch passes to keep Vancouver's penalty kill off balance as they created a few quality scoring chances. Granlund would set up Charlie Coyle for a quick shot that he lifted up and over the goal, and the Wild would regroup and it was Mikko Koivu setting up a pinching Jared Spurgeon on a pretty back door pass but he'd fan on the shot and then fire it wide. The Wild would come up empty, but with momentum still decisively in Minnesota's favor Tom Sestito decided to do something about it and he'd challenge McCormick to drop his gloves and the Wild pugilist would oblige the request. Both combatants, got themselves set, circling slightly before engaging and right away it looked as though McCormick was going to be in trouble as he missed with a right handed punch before ducking out of the way from a bomb from Sestito. I think even McCormick realized he was in a little trouble and he'd sort of fall into Sestito before wrestling him to the ice. As both fighters skated to their respective penalty box, Sestito clearly felt he wanted another shot. I'd say the first fight was inconclusive. After the fight the Wild seemed to relax a bit, and the Canucks would finally sustain some offensive pressure as Ryan Kesler hammered a shot that was steered aside by Darcy Kuemper. Quality shots would be hard to come by for the next few minutes as both teams began to play tighter defensively. Coyle made a nice play to redirect a feed from Nate Prosser that was stopped by an alert save by Lack. A few minutes after that, the 2nd line came dangerously close to breaking the stalemate as Koivu charged in after the puck deep in the Canucks' end as he swung a pass into the slot that found Matt Moulson who ripped a shot but Lack came up with the save. As missed opportunities come back to haunt you, on the very next shift the Canucks would take the lead as David Booth would race in with speed and he'd rip a shot between the legs of Jonathon Blum and over the shoulder of Kuemper to make it 1-0. It wasn't a great goal and frustrating considering how well the Wild had played throughout most of the period. With the Wild still stinging from Booth's goal, the Canucks started to hustle a bit more and Minnesota would get caught chasing a bit and a quick shot by Shawn Matthias was stopped by Kuemper and Sestito picked up the rebound and directed a shot that hit the side of the goal even though he had an opening to work with. Minnesota would counter with its 2nd line and Koivu made a brilliant pass off the boards that found the perfect angle to elude Kevin Bieksa and right onto the stick of Coyle who skated in and fired a heavy wrister by Lack and it was 1-1. Beauty of a set up and a wicked wrist shot and the Wild which helped buoy the feelings of a team that probably deserved to have the lead at this point. Minnesota outshot Vancouver 9-6. I liked the energy, but they need to keep it up. They shouldn't wait and let Vancouver hanging around and thinking they have a chance.
2nd Period Thoughts: The Wild started the 2nd with ok pace, looking to set the tone early as Vancouver was content to sit back and wait for a mistake. Minnesota's offensive pressure was pretty consistent but they just couldn't seem to get a stick on rebounds or to finish the prime opportunities. First they had to kill off a lame penalty as Alexandre Burrows played a stick at center ice before being leveled by a clean hit by Nino Niederreiter. No penalty was called, but then the officials thought about it and gave Niederreiter an itnerference penalty was was ridiculous since Burrows had just played the puck as he was hit. The Wild penalty kill played with the determination of an angry unit as they disrupted shooting and passing lanes and the Canucks got nothing going on the man advantage. With the penalty killed off the Wild would draw a penalty of their own as Bieksa stepped in front of Parise who chipped the puck and intended to chase it before being held up by the Canucks' defenseman, and he'd go sit two minutes for interference. Unfortunately, the Wild did absolutely nothing on the power play as the Canucks' penalty kill was aggressive to pressure the puck carrier and they would nearly cash in shorthanded. Bad passes, bobbled pucks and poor execution resulted in another failed power play. The Canucks went on the attack rather quickly and a whiffed pass by Jared Spurgeon turned into an easy turnover for David Booth who ripped a shot by Kuemper, 2-1. It was typical Wild punishment for their hard work. Minnesota would try to regroup and its 4th line would provide a spark as Erik Haula's hustle created a turnover on the forecheck and this turned into a flurry near the Canucks goal where Haula shot a puck from his knees that drew a rebound and was swept up by Dany Heatley and he'd gather it up and fire a shot that was blocked aside by Lack. The Wild kept hustling and Heatley would draw a holding penalty on Shawn Matthias. On the power play the Wild were better organized and Zach Parise tapped a quick pass on goal that snuck through the pads of Lack but before the puck could slide over the goal line it was swept out of danger by an alert Alexander Edler. Minnesota would flirt with a few other chances but again would come up empty on the power play. The Canucks were content to be patient with their chances as Zack Kassian would win a draw and use his big frame to protect the puck from Coyle before swinging a shot by a well-screened Kuemper to make it 3-1 with just 56 seconds left in the period. It was a huge goal, and terribly deflating to both the crowd and the team. Minnesota outshot Vancouver 15-6 in the period but the Canucks net 2 goals to the Wild's none which is really all you have to know. I would be surprised if Yeo keeps Kuemper in to start the 2nd period.
3rd Period Thoughts: The Wild would swap out Kuemper for Ilya Bryzgalov to start the 3rd. Minnesota would draw a penalty early as Matt Cooke got the officials to believe he was hooked by David Booth. Yet in Minnesota-like fashion they did absolutely nothing with the opportunity. The Canucks challenged the puck carrier, with not a tremendous amount of pressure either and Minnesota coughed up the puck time after time making it easy for Vancouver to clear the zone. The Wild looked sleepy and uninspired as Vancouver's super passive 1-2-2 was bogging the game down. Minnesota didn't seem to have the will or the want to really push it to try to get something going in the Canucks' zone. The only line that seemed to even be able to flirt at a few scoring chances was the top line. The top line would cycle down low, before working it out front for a quick shot but Eddie Lack was solid as he stoned Granlund a few times from close range. The missed chances would again come back to bite the Wild as a failed puck battle along the wall by Dany Heatley turned into a point shot by Dan Hamhuis which was redirected by Daniel Sedin and in, 4-1. It was only going to get worse, as Kyle Brodziak would take a stupid penalty in the neutral zone as he slammed down Zack Kassian for an obvious holding call. The Canucks would strike on the power play thanks to some lucky little deflections as Burrows' shot would deflect off a skate right out front to Kesler for an easy tap in goal by a sprawling Bryzgalov to make it 5-1 and a serenade of boo's from the frustrated home crowd. Minnesota would answer back just 24 seconds later as Erik Haula entered the Canucks' zone and fed a pass back into the high slot that was one-timed by Niederreiter and in to make it 5-2. The boo's quickly turned into empty seats and apathy as the Wild tried to save face on what was a sad effort. Minnesota was giving extra shifts to its bottom 6 in the last few minutes of the game. The Wild would fall 5-2 to mostly an indifferent and thoroughly frustrated crowd.
Neither Darcy Kuemper or Ilya Bryzgalov was very good in this game. Neither goaltender was able to make the kind of saves to bail out the team and that's why it got out of hand. Kuemper stopped just 9 saves while Bryzgalov had just 5 which I am sure has the St. Louis Blues and their potent offense just salivating. I am not sure who I'd go with tomorrow as neither goaltender instilled a lot of confidence. Defensively the Wild had some costly turnovers and their weakness on the puck left their goaltender out to dry too many times. Jared Spurgeon and Jonas Brodin had awful games tonight. The penalty kill is still guilty of over committing which the Blues will no doubt look to exploit tomorrow night. If Minnesota is to have a cold chance in hell of winning the team is going to have to be a lot better defensively and I don't trust the PK enough to believe it will be able to shut down the Blues' power play so I'd say do all that you can to stay out of the penalty box all game long.
Offensively the Wild again had some glorious chances early, using speed to attack the Canucks and really put them on their heels. Eddie Lack had to make some tremendous saves but for whatever reason the Wild decided to play to the Canucks' passive style and pretty soon the team was settling for shots from the perimeter and not getting much in the way of 2nd chance opportunities. I thought Erik Haula was one of the Wild's few bright spots, and while the top line had their moments they didn't do enough on the power play. Minnesota's power play could have and should have been the x-factor that delivered this game in the Wilds' favor. But instead they went 0-for-4 and in many cases without even building any kind of offensive momentum. Dany Heatley? Why is he even playing? His lazy, loafing play isn't helping this team at all. There is no excuse for the Wild to have slowed their game down the way it did in the 2nd period. Slowing it down kept it close, which is precisely what John Tortorella's team wanted. Minnesota may be happy it had 31 shots on goal, but you don't win games by winning in the shot count alone. It should be ashamed of itself.
The Wild will not have a lot of time to think about this loss as they will board a plane and take off for St. Louis in what will be a brutal game tomorrow. The Wild do not match up well at all to St. Louis, they know it, the Blues know it and missing an opportunity to earn two points tonight is huge. I have no idea why this team thought it could just coast into a win against anyone, let alone another team that is desperate for points like Vancouver is. Wild Head Coach Mike Yeo told reporters after the game, "Strange game, outshooting them by a large margin, but didn't quite feel right, we talked about amping up the urgency level but I felt we slipped back tonight." He kept referencing the Detroit repeatedly in the press conference which is odd, considering he has to realize that Detroit was a very depleted team, a team more akin to an exhibition game than one heading towards the post-season. St. Louis is rock solid, no weaknesses and now his team has to try to bounce back against. He seemed to hint that overconfidence may have been an issue, but my only question is why did this team feel it could be overconfident against Vancouver? Either way, its behind us now. Another huge game tomorrow night. Its put up or shut up time, no matter what mountain stands in front of them.
Wild Notes:
~ The Wild roster tonight is as follows: Zach Parise, Mikael Granlund, Jason Pominville, Mikko Koivu, Matt Moulson, Charlie Coyle, Matt Cooke, Kyle Brodziak, Nino Niederreiter, Dany Heatley, Cody McCormick, Erik Haula, Ryan Suter, Jared Spurgeon, Marco Scandella, Nate Prosser and Jonathon Blum. Ilya Bryzgalov backed up Darcy Kuemper. Mike Rupp, Justin Fontaine and Niklas Backstrom were the healthy scratches. Keith Ballard and Clayton Stoner are out of the lineup with injuries.
~ The 3 Stars of the Game as selected by Wild Radio were: 1st Star David Booth, 2nd Star Eddie Lack, 3rd Star Charlie Coyle
~ Attendance was 19,014 at Xcel Energy Center.
Iowa Wild Report:
Recent Score: Iowa 1, Charlotte 2
I feel like I've written this storyline far too long all season for the Iowa Wild. The team's chronic scoring issues again result in another home loss as Iowa fell 2-1 Tuesday night. The Checkers kept the Wild hemmed in its own end for most of the 1st period, but Iowa and Johan Gustafsson kept things close despite being outshot 12-3. Zack Boychuk would score late in the period on a 5-on-3 power play as he banged home a rebound off a Michal Jordan shot. 1-0 Checkers. In the 2nd period, the Wild would tie the game early as Iowa started the period with a simple purpose of generating shots on goal. Kris Foucault would hustle and beat out a possible icing call and then that turned into Zack Phillips setting up the former Hitmen sniper for a nice backside one-timer to make it 1-1. The game was also very feisty as the Wild were not afraid to drop the gloves as there were 3 fights in the first half of this contest. Brett Bulmer would drop the gloves with Keegan Lowe and the Wild power forward would more than hold his own as he put a beat down on the big Charlotte blueliner. Then Tyler Graovac would go after Brent Sutter after a hit he gave to Zach Miskovic. Lastly, it was Warren Peters beating down the much bigger Lowe for a slash he gave him. Unfortuantely the fights were not enough and the Checkers would score late in the 3rd period as Chris Terry banged home his 27th of the season to give Charlotte a 2-1 victory. Gustafsson had 27 saves in the loss.
Wild Prospect Report: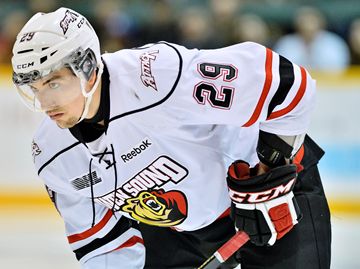 RW – Kurtis Gabriel (Owen Sound, OHL) ~ The rugged power forward had a rough game on Monday night when he chipped in an assist and 6 PIM's as the Attack fell 5-3 to Sault. Ste. Marie. Gabriel has just the single assist in 3 playoff games thus far.
C – Brady Brassart (Calgary, WHL) ~ Some games are low scoring affairs, others are high scoring barn burners. It was the latter on Monday night when Calgary played an intense back and forth game against Kootenay before finally prevailing 7-6 in overtime. The gritty centerman had an assist in the victory and finished the game a +1. The Vernon, British Columbia-native has 2 goals, 5 points in 3 playoff games so far.
D – Mathew Dumba (Portland, WHL) ~ The offensive defenseman helped top seeded Portland get a little closer to advancing to the 2nd round by chipping in an assist and was a +2 in the Winterhawks' 6-3 win over Vancouver. Dumba has 3 assists and is a +3 with 7 PIM's in 3 playoff games this season.